A well-appointed house is one that you will enjoy for a long time because you feel good there, because you have everything you need to enjoy the happiness of being at home. It is also a house that appeals in terms of the combination of functionality and design. The choices will depend on where you live. An overview of the essentials for the happy southerners.
It's good to live in the South of France!
The South has the mildest climate in the whole of France. So you get a little extra sunshine, which is as good for your health as it is for your morale.
The region is also famous for its gastronomy. Beautiful French and Mediterranean specialities reach out to you as well as fresh products that inspire chefs from all over the world.
Let's not forget the rhythm of life where dynamism and calm coexist in perfect balance.
Living in the south is a bit like being on holiday all year round. It is an excellent reason to equip your home well and thus enjoy all the charms of this region which is the envy of many.
A parasol
Enjoying the sun is good, but overdoing it is a sacrilege for the skin but above all for your health. When you live in the South of France, you need to create a pleasant corner of shade and the parasol is the star in this respect. It is timeless, yet it reinvents itself to display designs that are more in keeping with the times.
Straight or offset, the parasol allows you to enjoy your outside even in the heat of the day. Depending on your desires, you can choose a model offering circular, square or rectangular shade. Other shapes can of course be available. Pay attention to the base of the parasol, both in terms of material and design.
Air conditioning
Air conditioning is an absolute necessity to stay cool even when temperatures are at their highest. Nevertheless, the design of this equipment can be discouraging. The good news is that you can invest in an air conditioner and cleverly disguise it from view.
Professionals of air conditioning like Cache Clim are not lacking in creativity when it comes to transforming indoor and outdoor units into decorative elements. For example, there are air conditioner covers that look like furniture. All you have to do is install it, decorate it with a few trinkets and your unit will go completely unnoticed. Some models can be transformed into a planter to dress the balcony with elegance, others are similar to artificial hedges, bringing a touch of greenery that is perfectly in tune with the environment.
Whichever air-conditioning system you choose, you will certainly find a "box" so that the installation of the unit does not detract from your decor.
You may be wondering about the impact of an air-conditioning cover on the operation of the appliance? Don't worry. The products are equipped with openings that respect the air flow.
To be placed on the floor, on the facade or elsewhere, the air conditioning cover is the solution to combine freshness and design in your home.
Geraniums
Geranium is pretty but it is especially very effective in repelling mosquitoes thanks to its subtle perfume. Note that the scents depend on the variety. You can therefore enjoy delicate aromas of mint, pine, citrus… just ask for more information before buying.
The fragrant geranium (or pelargonium) can be placed on the balcony, under the window, on the terrace… in conclusion, plant it in any area where you like to spend time in the summer. Note that this plant is sensitive to frost. That is why it is mainly grown in pots or in a planter, an option that also makes it easier to care for.
If you fancy an extra dose of protection against mosquitoes, don't hesitate to rub your skin with pelargonium leaves. The effect is guaranteed!
A sunbed
With sunshine as generous as that of the South of France, you should not hesitate to take naps outside or sit down to read or rest…. So you need deckchairs to create a Mediterranean-style space.
Place the lounger under a sunshade, by the pool or on the terrace, it will be a beautiful effect. Although there are no rules, it's all about feeling.
Pay attention to the design of your deckchairs. Some are very basic, others are more sophisticated. The most important thing is to guarantee your comfort, while at the same time making sure that the furniture matches your entire outdoor layout. Please note that harmony is not synonymous with assortment, but rather with consistency.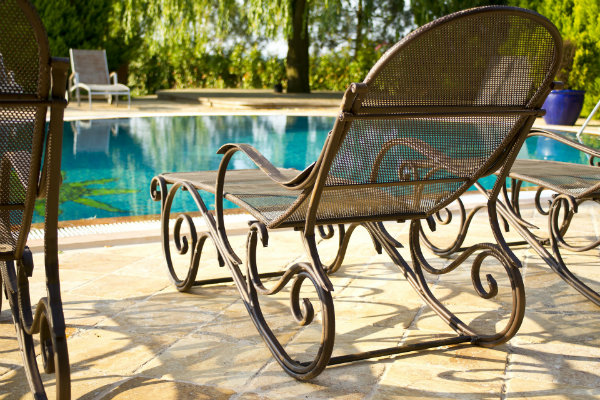 A barbecue
It is the perfect equipment to underline the conviviality of your home because it invites you to spend moments of sharing and good humour with your loved ones. The barbecue can be round, rectangular, modular, height-adjustable, equipped with drawers, with multiple grills, the options ensure interesting features every time.
No matter which food will catch your attention, what matters is the barbecue's suitability for your needs.
A swing
This piece of furniture helps to calm down. So place it in a place where you particularly like to rest. You will appreciate being rocked by your swing when you contemplate the setting sun. You will also be able to spend pleasant moments with your lover, your children or your friends, just for the pleasure of savouring the calm that surrounds you.
We don't often think about it, but the swing also allows you to do some yoga postures or offer yourself a meditation session to be in harmony with yourself.
Exotic wood is an excellent choice. Braided resin is also a very popular material for swing enthusiasts. If robustness is more important to you, you should opt for metal.
Don't neglect the seat and backrest. Cushions will give you extra comfort and add a decorative touch to the swing.
A set of garden furniture
Transform your exterior into an extension of your home with the right furniture. Garden furniture is a must, because it gives a certain elegance to the design. What's more, you can set it up wherever you want: in the middle of the lawn, on the terrace, by the swimming pool… it's all about how you enjoy your outdoor space.
An awning
Protect your terrace from excessive sunlight with an awning. Straight or curved, it will allow you to enjoy the mild climate of the South of France as you wish. If you have a lot of space, have a pergola built as the centrepiece of the garden. Set up the living room in it and let climbing plants grow there for even more greenery and freshness. There is no shortage of options for decorating and arranging it.
In short, you need above all furniture and accessories to enjoy the fine weather that is generous in the South. When it comes to design, let your creativity express itself!