Are you an entrepreneur looking for an estate agent in the Valbonne area? Are you a private individual looking for information about properties available in the Alpes-Maritime region?
In this issue, we offer you the opportunity to review the properties that a prestigious town like Valbonne has to offer, as well as the kind of property you can expect to find in the area. We will complete our showcase by considering the best alternatives for renting or buying in Valbonne.
Living in an apartment in Valbonne
Property in south-eastern France, along the Mediterranean coast, owes its power and attraction to a few key elements. The mild year-round climate is one of the arguments regularly put forward, but there are also important features for visitors and tourists – for example, the ability to move between the beach and the mountains in just an hour and a half. This proximity means it is very easy to reach the Southern Alps from the cities of Cannes or Valbonne. The rich local heritage, the wealth of traditional stone-built dwellings, mediaeval abbeys and the other villages surrounded by beautiful valleys, cannot be ignored.
Is it your intention to settle in Valbonne, or to invest in an apartment for rent in the region? The town offers many advantages for those who would like to settle in the heart of an old mediaeval village. Built according to a perfectly preserved grid layout, the town also plays host to technological centres of excellence – for example, the main cluster of the Sophia-Antipolis high-tech park.
When it comes to the natural assets of the region, we would be keen to highlight its ideal weather conditions. Indeed, over the course of the year, homeowners and tenants can expect relatively mild temperatures – in the range of 13 to 14°C on average and up to 25°C on the hottest day in summer. With its idyllic landscapes and hilly slopes, its golf courses and pine forests, Valbonne offers an environment for living that can quite realistically be described as unique. The future owners of an apartment in the region will also be able to take full advantage of the town's geographical location, close to Cannes and its beaches, and only half an hour from Nice on the A8 motorway.
For those who wish to make a secure rental investment in LMNP (private furnished letting), for example, there are many properties with panoramic views around Valbonne, and only one km from the old village. Here, you can be sure, that you will benefit from all the advantages of a property with a terrace and a private green space. Luxury apartments, which are particularly light and bright, generally range from two to four rooms and offer high-quality features, with the assurance of a quality of construction that is in compliance with the 2012 thermal regulations, ensuring a sustainable investment.
For students looking for a pied-à-terre in the region, we recommend exploring, for example, the Sophia-Antipolis science park – an area offering many amenities including lifts and direct access to public transport. In general, apartments here are integrated into secure, furnished and refurbished residences with balconies and fitted kitchens. Rental charges are generally around €550 per month.
To find out more about residential availability in the Valbonne and Sophia-Antipolis region, we advise you do not delay, but contact a local estate agency with an excellent knowledge of the local property market. This is the way to obtain valuable advice from experienced estate professionals who will study your requirements and can advise you about opting for a property loan.
Living in a luxury villa
Valbonne, located as it is, between Cannes and Nice, is rightly considered to be a prestigious destination. The reason is relatively simple: Valbonne is not far from Cannes, which is currently a major cultural and tourist stopover in France – and how can we avoid mentioning La Croisette and the annual Festival that attracts personalities from all over the world?
It should be noted in this respect that the village of Valbonne hosts the Semaine de la Critique every year during the Festival, which is the perfect opportunity for the exhibitors and all the other art galleries.
There are also some outstanding sites such as the Golf d'Opio-Valbonne of course. Located between Cannes, Nice and Grasse, the Golf d'Opio is one of the jewels of the Riviera, set between the sea and the mountains at the gateway to the Sophia-Antipolis science park (a state-of-the-art site that is comparable with the American Silicon Valley, if only in terms of economic attractiveness). We are talking here about a magnificent 220-hectare wooded and hilly estate, located just a few minutes from the shores of the Côte d'Azur.
As for the town itself, we must not ignore the possibilities of a villa in Valbonne, with its peaceful atmosphere. For those looking for a project involving new property, Valbonne is a particularly interesting destination, combining, as it does traditional stone, preserved heritage and modern technology.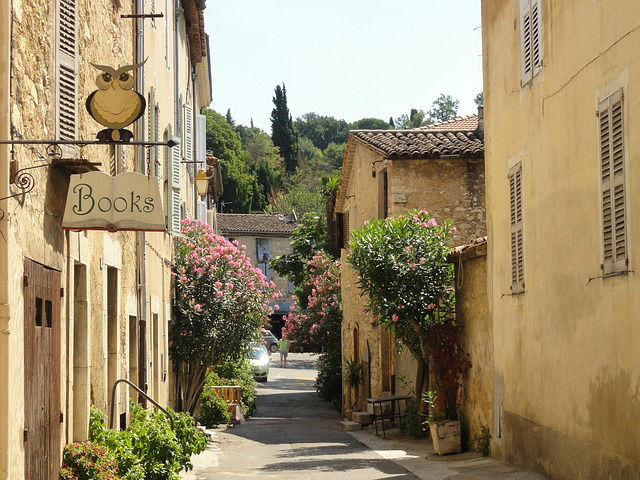 Choose the kind of property you want with a building plot
In the Valbonne region, you have the opportunity to choose between one or more types of building land, depending on the nature of your property project.
If you are looking to build a family home, you will find a number of options available, for example, just a few minutes walk from the town of Valbonne. A plot of land awaits you in a quiet, residential area, suitable for the construction of a detached house in a commanding position. In a peaceful, rural environment between Valbonne and Placassier and close to the shops, you will also find an opportunity to build a family house with a beautiful, unobstructed view.
The sale of building land may also involve the construction of a luxury residence. Consequently, a new housing development in Valbonne or near the village can represent an excellent alternative for an entrepreneur who is looking for a quiet neighbourhood. This is your opportunity to access a wide choice of VEFA apartments (currently under construction), in the heart of the old village area and not far from a lush green area. As a future investor, at a single stroke, you will be getting a bright living space on the top floor of a luxury residence.
Rent or buy?
Depending on your situation, the question arises as to whether you should rent or buy in Valbonne. To point you in the right direction, we know right from the start how to identify your needs: do you just want a pied-à-terre in the south-east of France for your holidays, or do you plan to move to the region permanently?
As an investor, for example, you would be well advised to consider a furnished or unfurnished rental close to nearby amenities, if you wish to attract a predominantly student market. If you have significant purchasing power and want to invest in a holiday home in Valbonne, you would do well to look at the luxury villas and houses located in quiet, sought-after districts, and not only a few metres away from the old village. Most of the top-of-the-range homes in Valbonne offer an unobstructed view of the surrounding countryside and have a large living area and a main living room which is both spacious and bright.
Are you a professional working in different parts of the region? In this case, you may be more interested in the prospect of renting a luxury apartment in the Valbonne region, near, for example, Sophia-Antipolis science park. You will soon notice the economic and strategic advantages of putting down roots in this area, which is considered as one of the most influential and attractive areas in France.
We have just looked together at the economic, tourist and strategic interests involved in investing in property in Valbonne. One thing is clear: although there are many properties available, everything depends ultimately upon your purchasing power and your search criteria, and it is wise to work through these with your local estate agent in Valbonne.
If you are genuinely looking to invest in property, be sure to make your selection carefully: apartments on the ground floor of the residence, for example, will tend to be less attractive to tenants and investors, depending upon the neighbourhood. To discover an exclusive new estate agency programme, do not hesitate to talk to your local estate agent in the Alpes-Maritimes right away.