The Cap d'Antibes is a small, 4-mile-long peninsula situated on the French Riviera. It is a remote, idyllic part of France known for its prestige, tourism, and wealth of luxury estates for sale.
About the Cap d'Antibes Peninsula
The peninsula has some impressive sights and amenities that make it an attractive place for investing in luxury property.
There are lots of stunning beaches, the most famous of which is the beach of the Salis. This is situated at the top of the Cap d'Antibes and attracts numerous tourists in summer. Another picturesque, albeit more secluded sandy beach is the Garoupe beach. Although only a small section of this beach is publicly accessible, it is in a peaceful location and has impressive views of the sea and mountains beyond. Added to this is an excellent network of costal paths such as the Sentier de Tirepoil at the southern end of the peninsula.
Perched discreetly on the tip of the peninsula is the Villa Eilenroc, designed by Charles Garnier, the creator of the Paris and Monte Carlo Opera Houses. The villa has its own gardens planted with traditional native species to create a natural Mediterranean landscape, as well as a public rose garden. The coastal path by the villa beach takes visitors a relatively short distance to Garoupe Bay.
Another prominent feature in the Cap d'Antibes landscape is the Graillon Battery. This is a historic tower that was part of a 15th century fort and restored by Napoleon as a defense post. It is now a museum surrounded by an enclosed 10-acre park and pine forest that completely fringes the coastline.
Villa for sale in Cap d'Antibes
The Cap d'Antibes has many majestic luxury villas for sale, including the John Taylor site. Most of them looking out onto the seafront and having their own swimming pool and large garden.
Moreover, many of the villas here are hidden from view by pine forests, and since much of the peninsula is publicly inaccessible, ample privacy is ensured for many of the properties. Therefore, these luxury villas in Cap d'Antibes have lots of unique selling points, and by promoting these properties, we can ensure that they stand an even better chance of getting sold.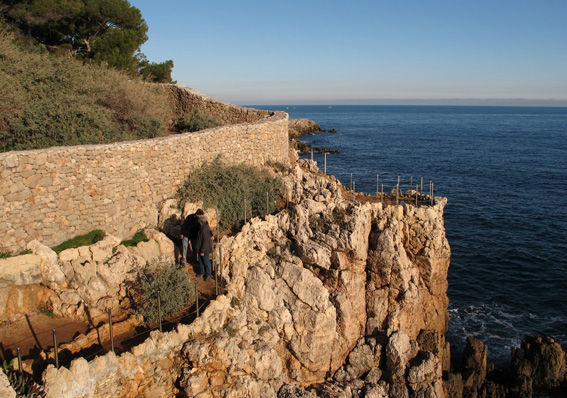 Villa for sale in Cap d'Antibes: contact a luxury real estate agency
Our luxury real estate agency will help prospective buyers make the right decisions when it comes to purchasing luxury villas in Cap d'Antibes. It is important that potential buyers contact a great luxury real estate agency for professional advice on correct administration and tax affairs, especially regarding real estate wealth tax.
To conclude, Cap d'Antibes is an ideal place to purchase a luxury villa. The peninsula has lots of attractive landscape and historic features that make luxury property here desirable. The team of experts ensures to help and advice prospective buyers every step of the way in buying into the luxury villa market here. This is important because the process is more than just a simple transaction. In order that buyers get the most out of their new villas, many legal, fiscal, and administrative requirements must also be carefully fulfilled.